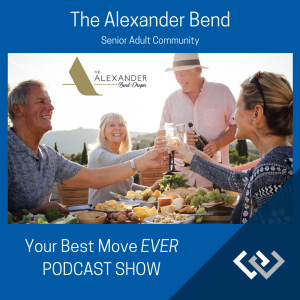 Reimagine your life at The Alexander – where home meets everything you love about your favorite high-end resort. Located in the heart of Central Oregon, The Alexander redefines active senior living for those 55+. Offering stunning views of the Cascade Range and high desert landscapes, you'll find an array of unique floor plans, comfortable living and a focus on holistic wellness that delivers the distinguished, fun and carefree lifestyle you've always imagined.
The Alexander Bend
Judy Williams, Leasing Consultant
(541) 330-6000
Email: leasingconsultant@alx55.com
Website: thealexanderbend.com
1125 NE Watt Way
Bend OR 97701
Connect with Judy to start planning your next best move.
Call or text 541-968-2400
Subscribe to receive immediate releases of upcoming episodes on your PODCAST App:  Apple/iTunes, Stitcher, Google Play or Spotify
If you enjoyed this podcast – I would Love to hear your thoughts about this episode. Questions? 
Please leave your comments or questions below. Thank you!