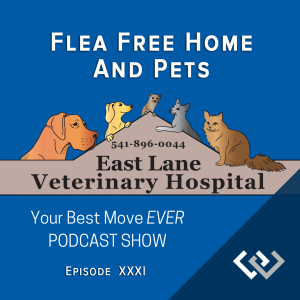 Guest Alex of East Lane Veterinary Hospital shares tips and treatments to prevent in-home and pet flea or tick infestations.
East Lane Veterinary Hospital
541-896-0044
Email: eastlaneelvh@aol.com
Website: eastlanevet.com
42755 McKenzie Hwy
Leaburg, OR 97489
Closed Sunday
Episode 32 – Find A Loving Home For Your Pet    (coming soon)
The Humane Society of the US: Travel Safely with Your Pet by Car, Airplane, Ship or Train
Greenhill Humane Society
88530 Green Hill Rd
Eugene, OR 97402
541-689-1503
Tuesday – Saturday 10am-6pm
1st Avenue Shelter
3970 W. 1st Avenue
Eugene, OR 97402
541-844-1777
Closed Sunday-Tuesday
Connect with Judy to start planning your next best move.
Call or text 541-968-2400
Subscribe to receive immediate releases of upcoming episodes on your PODCAST App:  Apple/iTunes, Stitcher, Google Play or Spotify
If you enjoyed this podcast – I would Love to hear about your biggest take-away. Please leave your comments or questions below. Thank you!