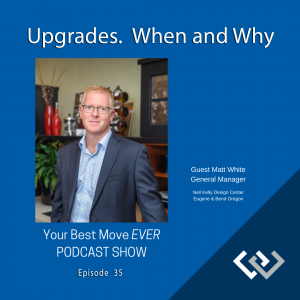 What is it that turns Buyers away?
Will I get my money back if I invest in a new kitchen?
Should I remodel the bathrooms?
My flooring and carpets look fine, why replace with new carpets?
A new roof can be spendy, can I simply have repairs done or do I need to pay for a new roof?
Guest Matt White, General Manager talks about  when & why these upgrades make a difference and what to leave for the new owner.
Neil Kelly Design Center
(541) 683-6085
2817 Oak Street
Eugene, OR 97405
190 NE Irving Ave
Bend, OR 97701
(541) 382-7580
Ep 9 Fix The Basics with Guest Ron Bovee
Ep 12 Benefits Of A Pre-Listing Home Inspection with Guest Ron Bovee
Ep 15 Gather Your Records with Guest Ron Bovee
Ep 16 Uncertified Home Improvements with Guest Ron Bovee
Subscribe to receive immediate releases of upcoming episodes on your PODCAST App:  Apple/iTunes, Stitcher, Google Play or Spotify
If you enjoyed this podcast – I would Love to hear about your biggest take-away.  Please leave your comments or questions below. Thank you!