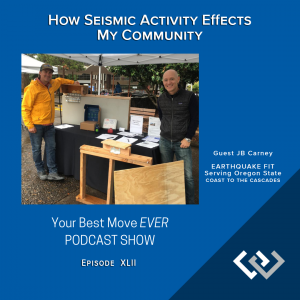 Guest J.B. Carney with Earthquake Fit shares information to help understand how & where Earthquakes happen and why we should get prepared.
503-383-9482
CCB #226883
About
Unprepared: Will We Be Ready For The Megaquake In Oregon  OPB News
Find earthquake hazard at your house with new OSU tool. The Oregonian
Oregon State Tool – Enter your address to receive a report about levels of hazard in your neighborhood.
Join us in three more episodes about Seismic Activity and Home Improvement tips to be Earthquake Sound and Survival Kits:
Ep 45 – Grab And Go Emergency Kit 
Ep 46 – Survival Kit For Your Home And Family launching Feb 27, 2020
Ep 47 – Projects To Make My House Earthquake Sound launching March 5, 2020
If you enjoyed this podcast Subscribe to receive immediate releases of upcoming episodes on your PODCAST App:  Apple, Stitcher, Google Play or Spotify
I would love to hear from you. Please leave your comments or questions below. Thank you!